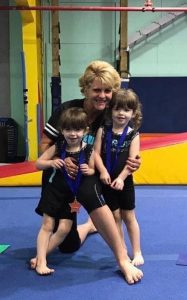 Sarah Durkin:
Ms. Sarah is an instructor in our recreational program and is the Director of our preschool program. Sarah has degrees in Psychology and Education from the University of Pittsburgh. She has decades of experience when it comes to working with children. (She is also the best mom ever!) When it comes to teaching, we all love to sit and watch Ms. Sarah. She is calm, firm, happy, organized, and clear in her expectations. She is a great communicator. In her spare time, Sarah enjoys daily exercise, reading, healthy eating, bike rides, and spending time with her husband Jim. She has 2 grown children, Alyssa and Chris. Ms. Sarah is such a strong component of our gym culture. We would be lost without her guidance and professionalism. Thank you Ms. Sarah! You rock!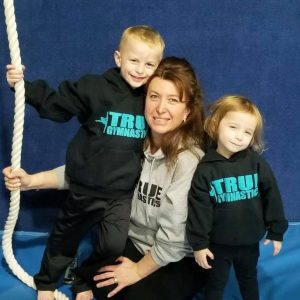 Jennifer Barker:
Jennifer is the queen of our front office. As the Office Manager, Jen helps our customers with the registration, transfers, payments, and scheduling. She is systematic and regimented. Last year, we were faced with overwhelming situation when COVID-19 presented nearly impossible challenges to our work life. Jen made these adjustments seem possible. She always finds a solution for obstacles that we face as a company. Her influence is strong and professional. Jennifer is very creative and loves to decorate for seasons, holidays and lesson plan themes. If you ever see cute decor hanging in our windows, that is her! She is a mom of 4 children, Alex, Samantha, Michael and Josie. She and her husband Dave love creating memories with their kids and going on adventures together. True Gymnastics is so fortunate to have a wholesome and involved employee like Jen. Thanks for being you!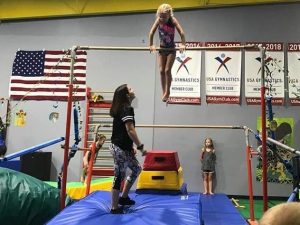 Becca Mehok:
Ms. Becca is an instructor in our recreational program. She is an excellent tumbler and a great spotter. Becca is factual in her teaching and has a lot of grit. Even if there is something to complain about, Becca never complains. She is steadfast and even-keeled. She gives great corrections and encourages her students to progress. This picture above really says it all! Becca is trustworthy, has a can-do attitude and is incredibly reliable in the gym. She studied at IUP and also has a background as a pastry chef! Bethel Bakery is Ms. Becca's other place of work. She enjoys baking, decorating, and spending time with her husband, Tyler. They just bought kayaks and can't wait to try them out when the weather gets warm. Thank you, Ms. Becca! We love having your expertise and dependability at True.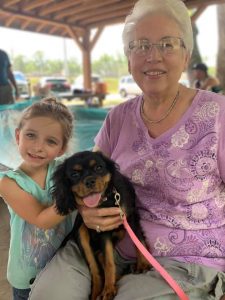 Linda Ollis:
Ms. Linda is a secretary in the office. Her daughter, Jennifer, is the office manager. Linda enjoys watching the students interact in the gym. When it comes to job specifics, Linda is incredibly oriented with numbers and data. (In fact, she created the very Xcel Contact Spreadsheet that I am using to write this!) Linda keeps track of all of our information. She processes it, organizes it, and stores this information securely within our database. Linda catches mistakes and makes corrections. She is also in charge of attendance. We take roll for each class every day. Linda then takes that information and records it into the system so that we can reference it when needed for makeup classes, drops and research. Linda enjoy spending time with her grandchildren, her dog Lizzie, Mexican food and Chick-fil-A. She is a dear asset to our gym and our future!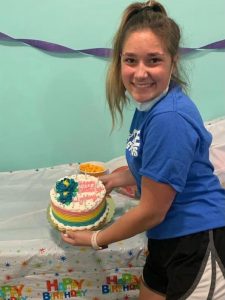 Lyndsay Paul:
Miss Lyndsay is a helper and teacher in our preschool and recreational programs. In earlier years, she attended our tumbling program and is a varsity cheerleader for Mount Lebanon high school. Lyndsay has current aspirations to attend CCAC for education. She is an excellent assistant to our gym and is training to spot, lead, and take on more responsibility. She is attentive and hard-working. Sometimes, it can be challenging to employ students in high school because they have a lot of moving pieces, distractions and schedule conflicts. With Lyndsay, this is far from the case! She is a focused and responsible employee with a bright future ahead of her. We are proud of her initiative and appreciate what she brings to True.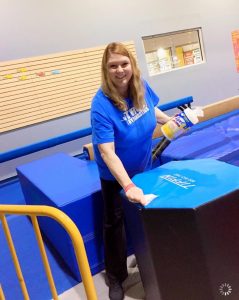 Mary Lynn Anthony
Mrs. Anthony is our daytime secretary, you will also see her on Saturday mornings. Mary Lynn is focused and diligent in the office. She keeps accounts in order and often reaches out to customers if there is information that needs updated. Mary Lynn is incredibly kind to our preschool students when they come into the gym. Sometimes these young students need to see a friendly face when they are nervous or scared about joining a class. Mrs. Anthony always provides that comfort. You may see her holding the door for people, coming into the hallway when paperwork needs completed, and cleaning the office/ lobby. When our gym started to grow a few years ago, bringing Mary Lynn on staff helped us tremendously. She carries her work with ease and is very direct and professional. She has two children, Mylena and Caleb. She enjoys spending time with her husband Jeff. Mary Lynn likes her church, chocolate and friendship. She is a beautiful part of our staff at True Gymnastics!
Tarah Morelli:
Miss Tarah is an instructor in our recreational program on Thursday evenings. The amount of professional educational training she brings to the gym is second to none. Tarah studied  Art Education at IUP and also holds a degree in Educational  Leadership from George Washington University. She is currently a visual art instructor for AIU Mon Valley. She just received news that one of her past students is starting their own clothing line. How exciting! Her daughter, Cecelia, is a level 3/4 student in our program. Tarah enjoys art in all forms- her delivery as a gymnastics teacher is inspiring. She is calm, yet a leader. Busy, yet patient. Tarah has amazing balance. She enjoys spending time with her husband Bill and being outside, and going on hikes. True loves you, Ms. Tarah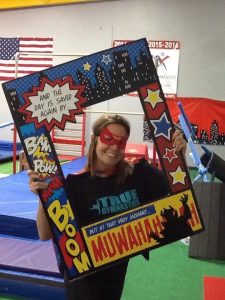 Fiona Ellis:
Fiona is an instructor in our preschool program, recreational program, and often works birthday parties on the weekend. She attended Point Park University and East Stroudsburg University, with prior experience in Journalism. She is detail-oriented and enjoys helping with lesson plans, scheduling, and is a reliable extra set of hands in nearly every situation. She will take time to stop a student and correct them because she wants to see them succeed. When an employee needs to call off, Fiona often answers with "I can come in if you need a sub!" She gives great insight when we are working through a conflict, shares vibrant ideas, and is always has something funny to say. Fiona enjoys her daughter Lily who is in level 5/6, hanging out with her husband Dave, travel, and snacks! Cheers to a great employee and friend.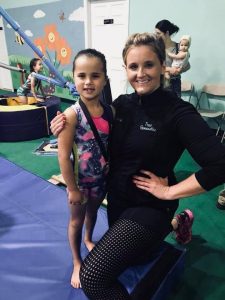 Alyssa Durkin:
Alyssa is the owner of True Gymnastics and opened this business in 2015. Gymnastics continues to teach her about intrinsic motivation. She was a gymnast at X-Cel Gymnastics for 10 years and grew up in the industry. Alyssa has been a preschool student, a rec student, a team athlete, a trainee, an employee and a manager. She has fought through injuries, won competitions, received national USAG training, and everything in between. Alyssa graduated from Gannon University with a Bachelors of Science in Sport and Exercise Science. She has a passion for athletic training and injury prevention. As an owner, Alyssa places her highest value in people and continuous education. She believes that leaders create more leaders. Alyssa guides her staff through ethics and decision-making while avoiding micromanagement.
Alyssa is also the Director of the Recreational Program. She enjoys spending time with her fiancé Joe, her family, and her two cats, Rocky and Grace. She loves cooking, gardening, family and exercises daily. Alyssa practices daily gratitude and contentment. Thanks for being a part of her awesome gymnastics school- it has grown into something greater than she had ever expected. A big thanks is owed to the phenomenal staff at True Gymnastics, to Frank and Kathy Klein and The Murovich Family. We could not build strong kids without you. See you in the gym!